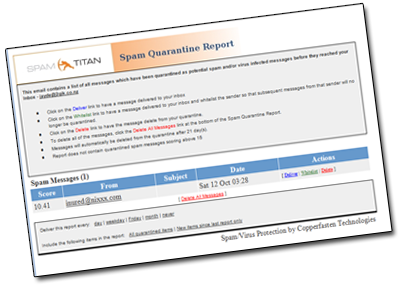 HOSTED ANTI-SPAM SERVICE
BLOCK 98.5% OF JUNK EMAIL WITH OUR SPAM FILTER
OUR ANTI SPAM SERVICE IS SUITABLE FOR ANY SIZE ORGANISATION OR BUSINESS.
Spammers are thinking of new ways to get their unwanted emails through to you everyday, which is why it's important to have an Anti-Spam system you can trust.
---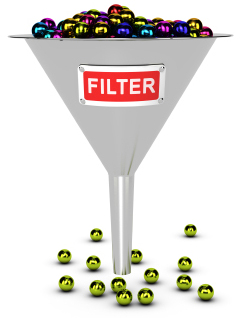 ANTI-SPAM KEY FEATURES
DAILY OR WEEKLY SPAM REPORTS
Spam detected that the system isn't 100% sure about will be sent to you in a report.
This report allows you to tell the system that a specific email is definitely spam, and you'll be training it for future messages. If a legitimate email is unintentionally detected as Spam (i.e a False positive) then you can tell the system, and it will deliver the email to you and train it so in future it's less likely to block those type of emails.
You can also whitelist senders directly from the report with a single click.
HOSTED SOLUTION
No hardware or software required.
TWO SEPARATE ANTI-VIRUS ENGINES
If a virus slips through one, it will be picked up in the second.
LOW FALSE POSITIVE RATE
Legitimate emails rarely get picked up as spam, so you won't miss out on important emails.
ALL YOU NEED TO GET STARTED IS YOUR OWN DOMAIN NAME. (IF YOU NEED A DOMAIN NAME SET UP WE CAN DO THIS FOR YOU.)
Email This email address is being protected from spambots. You need JavaScript enabled to view it. or add anti-spam to your bundle today!
---

HOW ANTI-SPAM WORKS
OUR ADVANCED ANTI-SPAM SERVICE IS BUILT USING THE SPAM TITAN PLATFORM, PROVIDING THE MOST COMPREHENSIVE SOLUTION TO EMAIL THREATS ON THE MARKET TODAY.
Offers protection from viruses, spam, malware, phishing, trojans and other unwanted content.
Before reaching your inbox, emails go through our anti-spam filter.
Any emails detected as spam the system isn't 100% sure about will be emailed to you in a report.
You then choose to release the message or whitelist the sender so no emails from them will be marked as spam in the future, or to delete the message.