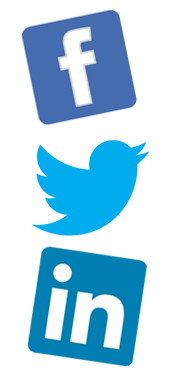 ENGAGE WITH YOUR CUSTOMERS ONLINE
FACEBOOK, TWITTER, LINKEDIN...
If you're new to the world of social media it can seem intimidating! That's why we're here to help.
SOCIAL MEDIA ALLOWS YOU TO INTERACT WITH YOUR CUSTOMERS AND INCREASE BRAND AWARENESS. WE CAN HELP YOU GET STARTED.
Not all types of social media suit every business. We will help you decide what social media will suit your business, set it all up for you, and come up with the first months social media marketing plan.
---

WHY SOCIAL MEDIA?
As well as increasing your online presence and making your brand more visible, social media gives you another way to reach out to customers, share content, and attract potential new customers.
Social media also offers another channel for you to promote your products or services in a friendly and informal manner.
GAINING AN AUDIENCE
THERE ARE A FEW SIMPLE WAYS TO GAIN A FOLLOWING ON SOCIAL MEDIA.
We will integrate social media links and buttons into your website, and see where else you can advertise your social media accounts to gain followers.